"...speech can be appreciated as a dramatic movement, a choreography modulating all the intensities that pass between body and Language, between emotional energy and semantic meaning, between memory and conversation. The gaps and spacings [...] only reinforce and remind of this primary action: that one is located within the flow of surrounding life, and wherein language is central." Brandon LaBelle, 2014
Exhibitions, Symposiums and Other Events
Plymouth College of Art 6th - 11th September 2017
Work(s) Exhibited
On The Verge & StopGap 1, 2, 3, 4 // 2017
Exhibition Info - Featuring works from a range of disciplinary backgrounds, made by students completing their MA studies.
Encounters with art, media, craft, and design can change the way we experience the world. Artworks are ideas that slip between categories, making possible different kinds of perception. The graduates this year explore in different ways the agency of creative practice as a form of research into contemporary experience.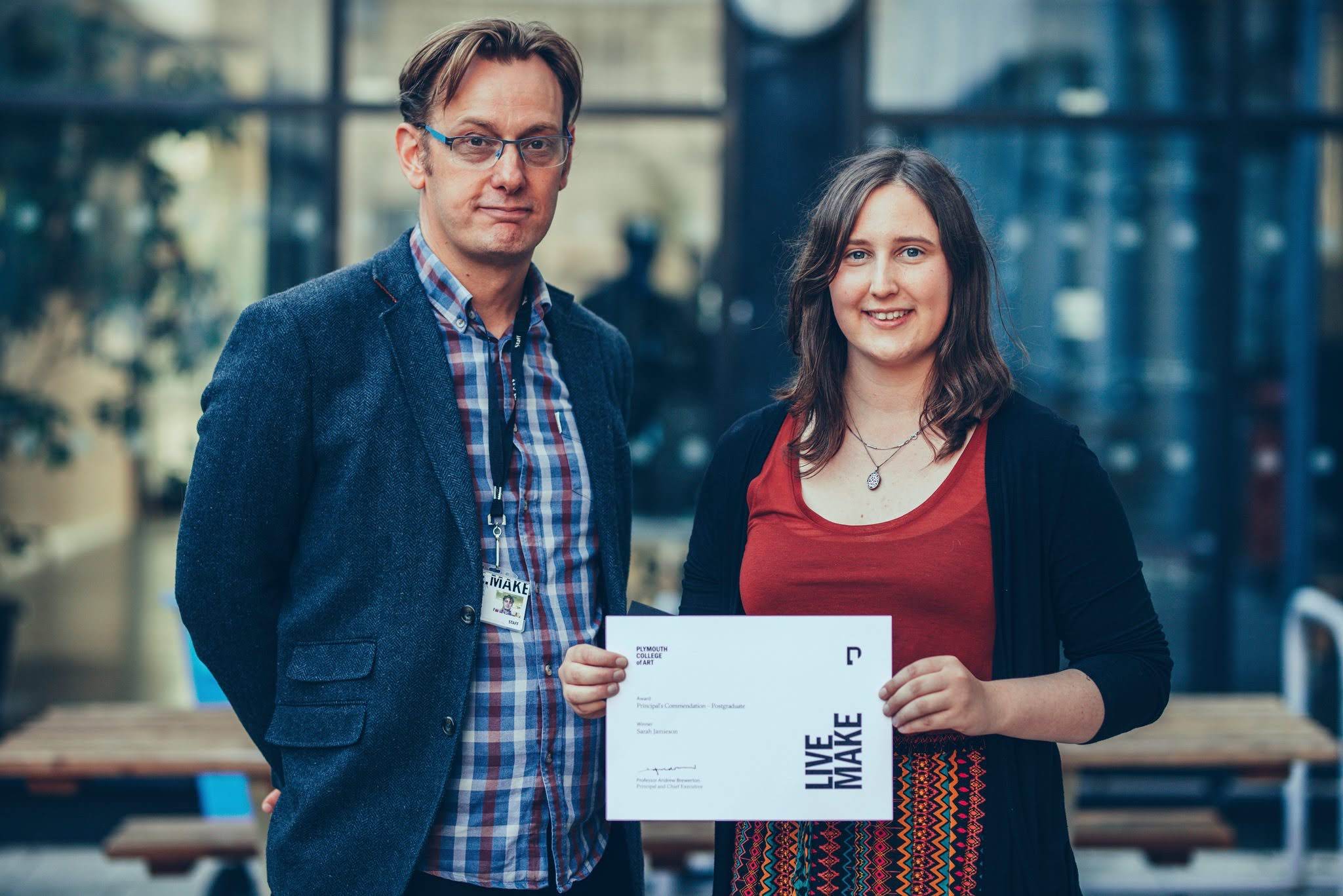 Post Graduate of the Year Award
Plymouth College of Art // 2017
Plymouth College of Art 22nd - 29th September 2016
Work(s) Exhibited
Music Box: Composition of Thoughts & These Thoughts Were (Are) Mine // 2016
Exhibition Info - Featuring photography, fine art, illustration, print, contemporary craft and fashion the MA show 2016 gives an insight into the diverse creative research undertaken by these diverse practitioners. The work has emerged from the interdisciplinary dialogue undertaken within the Postgraduate School over the last year.
For more details visit the Works tab.
SYMMERSION
Symposium: Sharing Ideas on Immersive Practices
Role: Event Creator & Manager alongside fellow practitioner Jennifer-Anne Crowther
Keynote speakers:
Kim Charnley
PhD in Art History and Philosophy. He is a theorist who writes on subjects related to contemporary art, photography, film and craft.
Sue Austin
A multimedia, performance and installation artist.
Plymouth Art Center
3rd November 2016
This one day research symposium invited creative practitioners and researchers to respond to the theme of 'Immersion'. Immersion can be understood as both an intense form of engagement, where all our faculties are engaged, but also as a kind of sensory stimulation that suggests ideological control or escapism. In this symposium, contributors are invited to respond to the aesthetic and political implications of immersion, especially focused upon questions to do with creative practice. Immersion might be understood, for example, through the way that making immerses the maker in a process, or the way that in participatory art and performance the artist and audience are immersed in an experience.
Royal William Yard, Plymouth July 2010
Work Exhibited
The Dark Room; A Constellation of Melancholic Fragments
Exhibition Info - This work exhibited for the final end of year show is centred on the intricacies, nuances and complexities of the melancholic state of mind. This installation throws this notion into a more physical and performative expression by which we ourselves become the obstacle.
Within The Dark Room, Sarah invites her audience to enter and experience the uncertainty of melancholy, through the use of space and light, to manifest itself entirely into our 'state of being' if even for a moment.